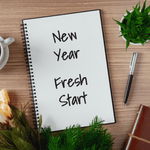 2021 will be a year filled with possibilities and challenges, but each one of us can make it the best year yet if we resolve to live a life with meaning. 
I've talked with so many people who are fearfully optimistic about this year. They hesitate to set new expectations for their lives for fear of being disappointed by circumstances they can't control.
People are worried - about continued COVid infections and deaths, continued remote learning and working, ongoing business challenges and closures, political uncertainties, yearning for normalcy, missing family and friends, new levels of loneliness and depression. Those are a sampling of the challenges we've grown accustomed to and fear of them continuing is real and valid.
So what do we do to with that? We acknowledge it and then focus on the positive. We focus on what we CAN control. We focus on what we can do to still thrive . . . to live a life with MEANING.
.
The secret is to give ... give kindness everywhere you go, give forgiveness when someone disappoints you, give thanks for your blessings every single day, give back to others in need, give of yourself when you have nothing else to give, and give love through a smile, a generous act, a good deed, spending quality time with others, and building connections and relationships. 
That's right, the I'm shouting the secret from the rooftops so it's not a secret anymore. We change attitudes - our own and others, by keeping the focus off ourselves. To live is to give.  To LIVE a life with meaning is to GIVE of your very being.
You got this. 2021 is ready for you and all that you have to give!
February 11, 2021 Meaningful Moment
Tracey McLarney
Our Interactive Home Decor Helps You Focus on Giving!