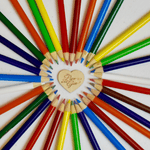 Have you ever heard the phrase "To Live is to Give"? The best way I know to explain the act of giving is not to focus on the magnitude of the gift you have given . . . but rather to focus on the ACT of putting someone else first.
Let's hit on the question of Why would you want to give? Volunteering gives us a sense of purpose and adds meaning to our lives. When you volunteer, you meet new people, learn new skills, discover hidden talents, build on experience AND accomplish something important. Studies have also shown that there are health benefits associated with giving including greater self-esteem, less depression and lower stress levels compared to those who don't give.
There are numerous ways to give back and it's so important to teach kids early on about the ways each person can make a difference in the lives of others, regardless of age, income or circumstances.
Explain that a toddler sharing a toy can be an act of giving, or letting a friend go first can be as meaningful as offering kindness to someone who's sad or grumpy.
When you take a broader look at helping specific charities or causes, money is always greatly appreciated, but there are practical ways you can help with your time either individually or as a family.
You can serve on the board, help with special events, or be the feet on the ground to help with the daily activities of the charity. For instance, you can help out on a build site for a new house with power tools, painting, landscaping. You can play with animals, or round up donations of needed goods like pet toys, towels and cleaning supplies for animal shelters. You could help round up donations of undergarments and toiletries for men and women's shelters, school supplies to kids charities, and as we move into colder weather there will be a big demand for coats, gloves and hats.  There are food ministries where you can help collect cans of food, volunteer a shift in a food warehouse, make sandwiches for a homeless food truck, provide after school snacks for day care programs, or help by serving meals to the homeless at community facilities.
Volunteering allows you to connect with your community and make it a better place. Even helping out with the smallest tasks can make a real difference in the lives of people, animals and organizations in need.
Having the power to improve the lives of others is a privilege. When you feel a sense of responsibility to help others, and then follow through on that, it can help you live a life with meaning in the best possible way.
August 18, 2020 Meaningful Moment
Tracey McLarney
Get our exclusive Giving Jar to help your family focus on ways to give, or our other giving items!